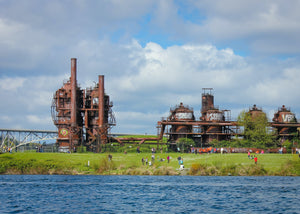 MRU Biogas & Landfill Gas Analyzers
FREE ONLINE AND PHONE SUPPORT WITH REAL PEOPLE
When it comes to monitoring and analyzing biogas, you need the right instruments that can deliver accurate results quickly and efficiently. That's where MRU comes in with its range of biogas monitoring instruments, including the MRU Optimax Biogas Analyzer.
The MRU Optimax Biogas Analyzer is the ultimate tool for monitoring biogas and other combustion processes. It is designed to measure up to 7 gases simultaneously, including methane (CH4), carbon dioxide (CO2), and oxygen (O2), as well as other gases such as nitrogen oxide (NOx) and hydrogen sulfide (H2S). This powerful analyzer is ideal for applications such as biogas production, landfill gas monitoring, and industrial emissions monitoring.
With the MRU Optimax Biogas Analyzer, you can trust that you are getting accurate and reliable results every time. Its advanced technology and high-quality sensors ensure that you get precise measurements of gas concentrations, temperature, and pressure. Plus, its intuitive user interface makes it easy to use, even for those who are new to gas analysis.
As an official distributor of MRU, Diamond Scientific offers biogas monitoring instruments that are second to none. We have over 30 years of experience with environmental applications and 100 years of collective manufacturing experience. Our focus on quality and safety is evident in our partnerships with US-based manufacturers that offer ISO 9001, UL, and safety-related certifications for their products and solutions.
The MRU Optimax Biogas Analyzer also comes with a range of advanced features, including Bluetooth connectivity, SD card, Mini-USB, WLAN for data transfer to Smartphone, Tablet or PC or infrared speed printer and a powerful software platform that allows for advanced data analysis and reporting.
If you're looking for the best biogas monitoring instruments on the market, look no further than MRU. With our MRU Optimax Biogas Analyzer and other biogas monitoring instruments, you can rest assured that you're getting the most accurate and reliable results possible. Contact us today to learn more about our products and solutions.