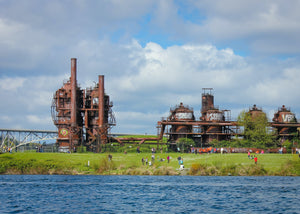 MRU Biogas & Landfill Gas Analyzers
FREE ONLINE AND PHONE SUPPORT WITH REAL PEOPLE
When it comes to combustion analysis, accuracy is key. At Diamond Scientific, we offer a range of portable combustion gas analyzers that provide reliable and precise measurements of combustion efficiency, emissions, and flue gas composition. Our products are designed to help professionals in a range of industries optimize their combustion processes and ensure compliance with emissions regulations.
Our portable combustion gas analyzers are suitable for use in a variety of applications, from industrial boilers and furnaces to commercial heating systems and even residential appliances. They offer easy-to-use interfaces and can be customized to meet the specific needs of each user. With our combustion analyzers, you can easily measure parameters such as oxygen, carbon monoxide, nitrogen oxide, and sulfur dioxide levels in real-time.
At Diamond Scientific, we understand the importance of accuracy and reliability in combustion analysis. That's why our products are designed and manufactured to the highest standards of quality. Our portable combustion gas analyzers are made with durable materials that can withstand harsh environments and are backed by industry-leading warranties and customer support.
When it comes to portable combustion gas analyzers, there are many options on the market. However, our products stand out from the competition due to their accuracy, reliability, and user-friendly features. We are proud to be a leader in this industry and to offer products that help our customers optimize their combustion processes, save energy, and reduce emissions.
If you are looking for a high-quality portable combustion gas analyzer, look no further than our MRU Instruments. Our products are trusted by professionals across a range of industries, and we are committed to providing exceptional customer service and support. Contact us today to learn more about our products and how they can benefit your business.