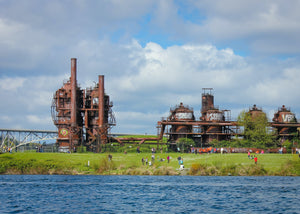 MRU Biogas & Landfill Gas Analyzers
FREE ONLINE AND PHONE SUPPORT WITH REAL PEOPLE
As environmental regulations become more stringent, monitoring emissions has become crucial for many industries. Diamond Scientific's MRU Instruments offer a range of portable emission analyzers for emissions monitoring devices. Our products allow you to accurately measure and analyze emissions in real-time, ensuring compliance with local and national regulations.
Our portable emissions analyzers are designed for easy operation and provide reliable and precise measurements of emissions from various sources. These devices are perfect for professionals in the automotive, oil and gas, and power generation industries, as well as government agencies and testing laboratories.
Our emissions monitoring devices are highly accurate, versatile, and easy to use. The MRU Instruments' portable emission analyzer is designed to measure a wide range of gases, including carbon monoxide, carbon dioxide, oxygen, and nitric oxide. Our products are highly reliable and are backed by our commitment to quality.
The MRU Instruments portable emission analyzers we offer stand out due to their high accuracy, ease of use, and robustness. They are designed to be portable so you can take them wherever you need to go. MRU Instruments' portable emission analyzers also come with a range of features that make them highly efficient, such as advanced data logging, Bluetooth connectivity, and high-capacity memory.
In the United States, emissions monitoring is highly regulated, and non-compliance can lead to significant penalties. Therefore, it is crucial to use a reliable and accurate emissions monitoring device. Our portable emission analyzers are highly effective in monitoring emissions and ensuring compliance with regulations. They are designed to be durable, easy to use, and provide accurate results, making them the perfect choice for anyone looking to monitor emissions.
If you are in the market for a portable emission analyzer, Diamond Scientific has you covered with the our selection of MRU Instruments. Our products are reliable, accurate, and easy to use, making them the perfect choice for all your emissions monitoring needs.